The Vashon Island Coffee Roasterie: Our Roots
Minglement an organic food, herb, and spice store established in 1972 on Vashon – was growing, and Eva wanted to move her business into a larger space. A country block away, the original Historic Seattle's Best Coffee roasting facility, stood empty. Well over 100 years old, with its well worn wooden floors, charming front porch, dramatic high ceilings, and Jim's original roasting equipment. The beautiful building, at almost the exact coordinates of the center of the Island, was an enticing opportunity.
While moving in Eva had many conversations with Jim Stewart, the retired founder of Seattle's Best Coffee. She learned about his Roasterie's history, and came to understand his extensive knowledge and  profound love of all that is coffee. His commitment to bringing high quality, traditionally grown and fully fermented coffees to market sparked Eva's interest, as did his dedication to offering his expertise and support to farmers and to the people of coffee. Jim's  contributions,  in today's coffee market is humbling, and cannot be measured in marketing sound bytes but through his impact, and through his stories while traveling to every coffee farm he could to find in the world to buy unusual and rare beans.
Jim shared with Eva some of the rarest and most flavor-filled coffees in the world, and encouraged her to try her hand at coffee roasting using his well seasoned original vintage roaster, which was still residing in the basement of the building. Eva learned coffee from the "grounds up", and she now brings her knowledge & love of organic food, spices, and herbs, both medicinal and culinary, to her coffee company as a part of a new generation of specialty coffee roasting entrepreneurs.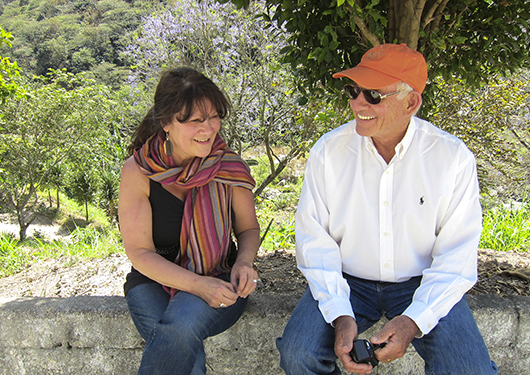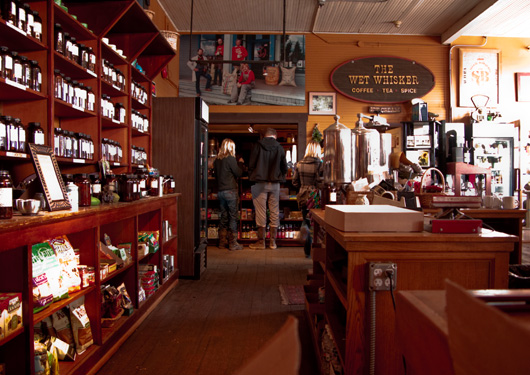 With Minglement re-established on one side of the building, the other half is The Vashon Island Coffee Roasterie.  It is because of the long island history attached to this building that she named her business The Vashon Island Coffee Roasterie (TVICR).
Eva treasures Jim's mentorship and the opportunity he gave her to continue in the ongoing legacy of his famous Historic Coffee Roasterie. With Jim, Eva has visited some of the farms where her coffee comes from as well as her own travels into Colombia.  She defines her own style and way to interpret the unique flavors and spirit of these rare coffee beans. She is dedicated to ensuring that this regional treasure and Jim's coffee roasting style and traditions are maintained and that the history of this famous Roasterie and museum are viable.
You can often find her at the cupping table alongside Jim (when he is town) and Roast Master Peter Larsen. Peter comes from a long line of German Master Coffee Roasters, and now helps Eva as he did Jim all those years ago. Under the guidance of Peter and Jim, Eva's son Casey has put in his time as an apprentice  (according to European standards of almost 5 years) to become a Master Roaster  – and brings his love of cooking to the coffee roasting craftsmanship now passed on to him.  It's a family business – brought forth with the help of her husband Ken, two other sons and a daughter, as well as a dedicated staff supporting this effort today.
Eva and her husband Ken live on Vashon on their organic farm, Breathing Meadows, where they grow heirloom organic vegetables, medicinal and culinary herbs, and berries. Her foundation, Traditions, contributes to indigenous communities and individuals at the vanguard of the natural environment.