The Birthplace of Seattle's Best Coffee (SBC)
Established 1969
by
JIM STEWART, Specialty Coffee and Direct Trade Pioneer
Although we are the Vashon Island Coffee Roasterie, if you pay us a visit today you will notice that the south face of our building is still adorned by the weather-worn red script that says "SBC", Seattle's Best coffee.
Many people know that Seattle is the specialty coffee capital, but what many don't know is that specialty coffee roasting in the Pacific Northwest was perfected and brought into the culinary art scene by the now-retired founder of Seattle's Best Coffee, Jim Stewart, and that his coffee roasterie was here, on Vashon Island.
Jim got his start in the coffee industry working for Herb Hyman (who Jim refers to as the grandfather of specialty coffee in the US) owner of the Coffee Bean and Tea Leaf Company in Los Angeles, while in college.  Through Herb's training, mentorship, and expertise for importing and roasting high quality coffees, Jim learned of the nuance and diversity of coffee beans from around the world.
Inspired by Herb, Jim would change his course from becoming an optometrist to learning more about coffee. His passion for coffee took him around the world where he traveled to every coffee farm he could find, no matter the size, to learn of the original coffee trees, and of traditional growing and processing practices.
In 1969 he started his own specialty coffee roasting company called The Wet Whisker in Coupeville, WA, eventually moving to Seattle's iconic waterfront on pier 70.  At that time, he was Seattle's only artisan coffee roaster providing the high quality, fresh roasted coffee beans that the region is now known for.
In 1982, Jim moved his roasting facilities to Vashon Island under the name of Stewart Brothers Coffee, where he purchased a historic building located where the town of Vashon originated. Constructed from old growth island fir, with an expansive covered porch, beautiful high ceilings and wooden floors wooden floors, the building also came with an underground cellar (like that of a fine wine cellar) that was a perfect fit for storing his rare coffee beans.
Around the same time that Jim won first place in a region wide coffee tasting contest – judged by the areas top chefs – he learned of a company back East with the name of Stewart Brothers and would need to change the name of his company. As the winner of the coffee tasting contest, his coffee was awarded the title of "Seattle's Best Coffee." Jim adopted Seattle's Best Coffee as the new name and launched a company known the world over for its roasting excellence.
Jim's dedication to preserving the highest quality coffee, and to the people of coffee, is legendary. A modern day coffee pioneer, Jim created his own Direct Trade and Fair Trade pathways and "Specialty Coffee" as a culinary art.  Jim perfected his Northern European light roast style which is the standard by which roasters measure their roast today. He launched a movement in Seattle that changed what coffee means to people and, in turn Seattle, has become the center of the "Specialty Coffee" industry.
Jim would eventually sell his company to a corporate coffee company but maintained his original SBC roasting facility (on Vashon) – keeping his original signage, roasting equipment, coffee museum and history.  His Wet Whisker company office remains located in The Roasterie. Now retired, he sources original, rare coffee beans for Eva's company through his Coffee Foundation.
Little did he know back in the days of Folgers and Sanka that his dedication to the highest quality coffee beans and his Northern European style of roasting on his vintage roasters would bring to the forefront a new coffee phenomena of  "Specialty Coffee" –  coveted worldwide.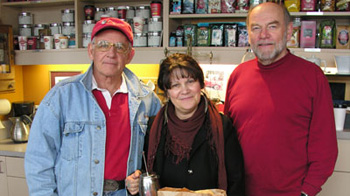 Jim, Eva, and Peter in the Cupping Room at TVICR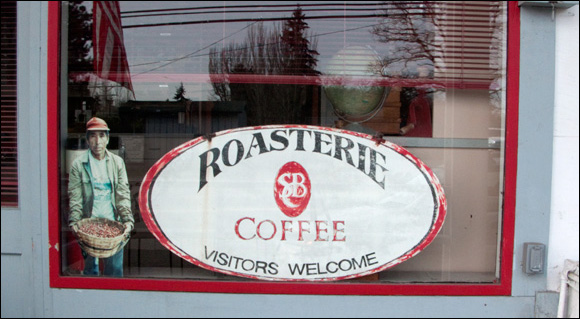 Seattle's Best Coffee (SBC) sign made by an island artist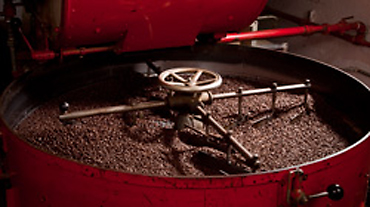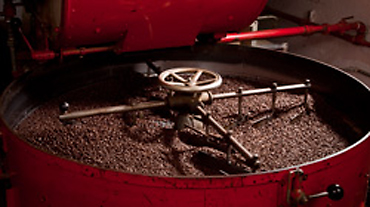 Cooling tray of the original 1957 Gothot roaster – still in use today